A theory of change for inclusive businesses
FinDev Canada is a development organization that started operations in January 2018 as an initiative of the Government of Canada. Their immediate challenge was to communicate how they would fulfill their mandate, which is to support the growth and sustainability of businesses in developing markets.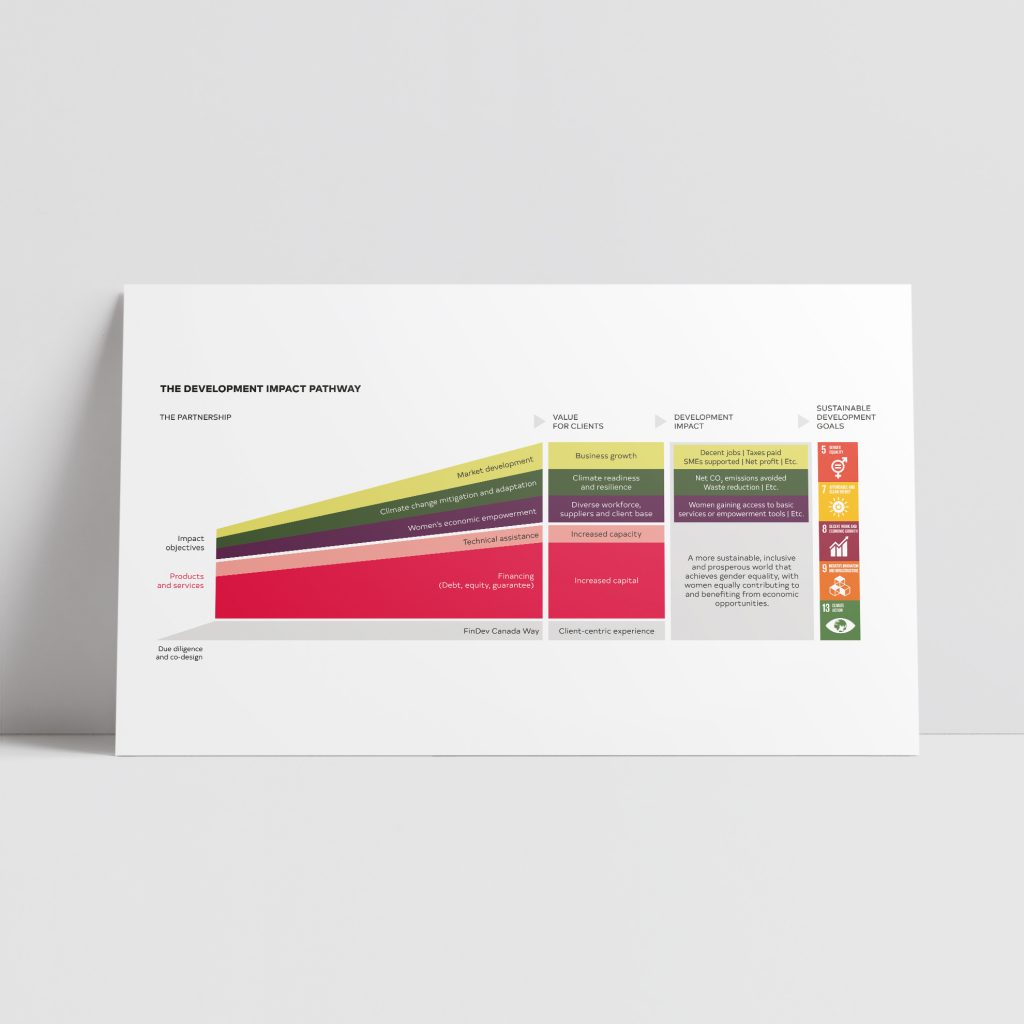 The starting point
A theory of change is a model of the different steps that a person or organization takes to have their desired impact. It's a fairly complex process that needs to be communicated clearly to different audiences.
FinDev Canada had already developed a representation of its theory of change, but was not satisfied with the result. The different parts of the organization did not see themselves in it and certain audiences did not understand it easily.
At the outset of the conversation, FinDev Canada explained that the client is at the center of their approach to achieve impact goals. However, the client does not appear in this representation of the theory of change.
The approach
After studying the current version and the description of the theory of change, we organized a meeting with key people at FinDev Canada to discuss their theory of change in person and to develop possible solutions. This meeting is based on a series of standard questions plus some questions personalized for the present case.
During the meeting, we write and draw our ideas on the board in order to capture the ideas we express as we approach a basic concept.
The final version, explained
We then created different versions of the theory of change in dialogue with FinDev Canada, until we settled on this final version.
It is important to remember that this theory of change is not meant to be read alone. Either it is presented in context within a text, or it is in a slide explained by the speaker.
Historically, the East of Montreal is a region that has been less developed and less well served than the Center and the West. How can we mobilize political actors to restore equity?
Client: Chambre de commerce de l'Est de Montréal
An independent evaluation found out that the World Bank Group is underinvesting in a major environmental problem. How to get this point across at a busy international conference?
Client: Independent Evaluation Group of the World Bank Group